Jakarta is the capital city of Indonesia and is a hotspot for tourists of all ages coming from different parts of the world. This place does boast of its own uniqueness. Hence planning the sightseeing tour in advance will help the tourists to catch a glimpse of all the interesting places of attraction here and ensure that nothing is missed out.
Top attractions of Jakarta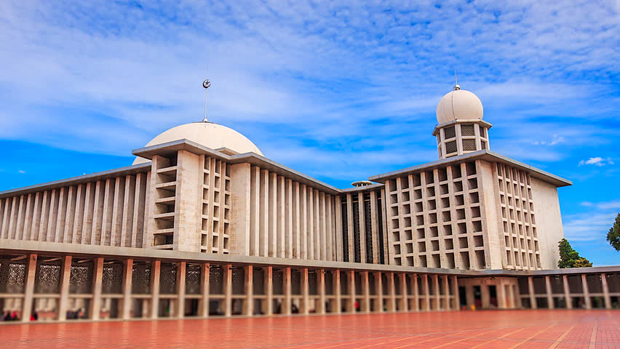 Istiqlal Mosque: It is considered to be Southeast Asia's largest mosque, constructed in 1978. It can accommodate 200,000 people at a tie and boasts of having a great looking courtyard having decorative minarets and designer marble. Its interiors have plenty of decorative Islamic designs. Its design and architecture do attract religious and casual tourists throughout the year.
National Monument: This structure is 132m high and is constructed to pay homage and respect those who have laid down their lives for the country's independence from foreign rule. Tourists can climb to the top to enjoy the city's panoramic, stunning view or simply get a view from the group of the amazing architectural piece. The locals do regard this monument very highly and it is lit beautifully at night.
Thousand Islands: Those eager to move away from the city crowds can venture to Thousand Islands, which is located on the city's north coast. It does help the travelers to get closer to nature. There are several restaurants, resorts as well as secluded golden beaches offering that breath-taking views. It is also a wonderful place to relax the body and the mind and the perfect place to be for photography enthusiasts, backpackers, and nature lovers.
Merdeka Square: This is perhaps an important place to visit and is spread over an area of 1km. It is said to be five times much bigger than that of China's Tiananmen Square and is covered with footpaths, wooded areas, and amazing water features. It is a great place to hang out with someone special and relax, especially after a tiring day.
Ancol Dreamland: It is an amazing theme park that the country boasts about and is a hit among children of all ages. There are different types of rides including Fantasy World, bowling arena, Water Adventure Park, Ocean Dream Samudra, beaches, aquarium and rollercoaster rides. The city is well known for humid weather. This park is sure to provide the opportunity to refrain from the humidity outside.
Taman Mini-Indonesia Park: This is the best place to know more about the culture and history of the Indonesian people. It covers an area of 250 acres, boasting of rich traditions and heritage. There are several themed pavilions, IMAX cinema, a detailed miniature of Indonesia's archipelago, cable car and a traditional theatre.
Jakarta Cathedral: This cathedral is regarded to be among the finest places in Jakarta city, constructed in 1901, serving as Roman Catholic Establishment's seat right from its inauguration. The church's frontal portion has some stunning white spires and Roman decorations. Its interiors do offer a better glimpse of the European cathedrals. It is well known for its Catholic roots, while its peaceful aura and awesome architecture are sure to calm disturbed souls.
National Museum: This museum is near Merdeka Square and boasts of having a stunning collection of artifacts offering detailed perspective into the country's rich cultural heritage and history. Tourists can come across Buddhist-Hindu artwork of the building, while the treasure room including the gold artifacts is sure to leave everyone completely mesmerized. The collection of weapons of the bygone eras and dynasties provide a better glimpse of the wars that took place here throughout history.
Jakarta Chinatown: Those who are nocturnal in nature and would like to indulge in partying or feasting at night can find this place just amazing and entertaining. The locals refer to this area as Global. Chinese immigrants were said to come and establish themselves here during the 17th century and have played a significant role in the city's history. It is definitely a historical place. One can get to view the traditional architecture, temples, markets, taste delicious Chinese food, etc.
National Gallery: This museum constructed in 1999 showcases local talents in artwork form. It has over 1700 artwork pieces created by popular Indonesian artists like Redan Saleh, Vasuki Abdullah, Affandi, and others. Also, are present artworks belonging to internationally renowned artists like Hans Harting and Victor Vasarely. This place can be termed to be a real paradise for art lovers.
Menteng Flea Market: Tourists can indulge in shopping during their visit and not have to spend a fortune on buying different types of items. This market has some great merchandise and handmade crafts and shoppers are sure to be spoilt for choice, as there's a readily available wide range of products to choose from like the Indonesian crafts and arts, attractive antiques, unique textiles, and tasty snack items. There are also few signature handicrafts like vinyl records and ornate wood carvings. Bargaining can help reduce prices and enjoy purchasing items.
Taman Suropati: It is in Menteng, Jakarta that the beautiful park is located and is regarded to be the junction of 3 streets, namely, Imam Bonjol Street, Diponegoro Street, and Teuku Umar Street. Tourists can experience the serenity here and also walk along with green parks, to unwind and relax. It is also a great place to have a picnic with the family.
Setu Babakan: This natural lake is popular among the locals and tourists who frequent here all round the year. It is located at Betawi Culture Village center and is spread over an area of about 289 acres. There are mainly two lakes – Set Mangga Bolong and Setu Babakan. Spread over 32 hectares, the lake derives its water from Ciliwung River. For the local Betawi community residing near the lake, Setu Babakan Lake offers the much-needed water source. Tourists can indulge in fishing, boating, and rafting in the lake.
Choosing the best hotels in Jakarta is sure to provide the family or group with wonderful and safe accommodation.