Italy is undoubtedly a special place to have your dream wedding. It is the perfect setting to tie the knot with your loved one. Tuscany's historical heritage and landscapes offers scenic selection of venues for a wedding. One of such wedding hotspots is Florence. Florence is considered by many couples as the epitome of everything Italian. Tuscany destination wedding packages are offered by many wedding planners in this region to tailor to every couple's needs.
Each year, Florence receives a ton of tourists from around the world. Its beautiful landscapes, artistic history and articulate architecture makes it nearly irresistible for any couple looking for wedding venues. However, the vast wedding venue spots can be a bit mind boggling for couples to narrow down to one. So here are some few tips to help in planning for the most memorable day of your life;
DECIDE ON THE TYPE OF WEDDING
There are basically two types of weddings: civil and religious. A civil wedding in Italy must take place in the town hall or in a hall assigned for weddings by the respective municipality. The couple has a choice of reading the wedding vows to each other or lighting a candle before two witnesses. The bride also has an option of coming in with a white wedding dress and choose a musical accompaniment for the process.
In the religious wedding, catholic or protestant, the couple decides with the priest whether it should be a prayer service or a nuptial mass. It's recommended to have the reception area close to the ceremony to save time and prevent guests from getting lost. Whatever the type of wedding you are planning, Tuscany is the place for you.
CHOOSE THE BEST VENUE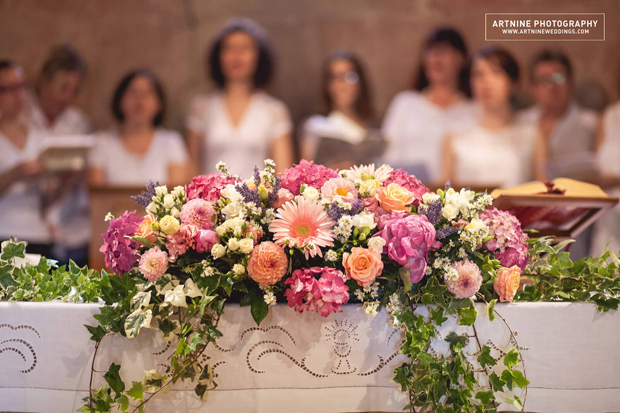 Destination weddings in Italy find in Tuscany the perfect location. Tuscany has tons of spectacular landscapes of soft rolling hills, peaceful nature with the most renowned architectural masterpieces, friendly atmosphere, delicious food and wine. The ancient castles, enchanting churches and grand villas offer fabulous venues for both the ceremony and reception.
When picking a wedding venue, one may choose from those offering all-inclusive Tuscany destination wedding packages to those that rents out only the grounds. The couple then have an option of sourcing for the other suppliers individually such as tents, chairs, decor and catering.
CHOOSE BEST WEDDING WEATHER
The best months for weddings in Tuscany is from May to the end of September. This not only offers sunny weather but also the longest periods of natural daylight. This is important because the wedding team gets to enjoy the outdoors and dining Alfresco. May and September being a bustling wedding season, one needs to lock up a venue sooner rather than later. Couples are normally advised to do their ceremony after 4pm. Anything earlier than this will be too hot for the wedding team sitting in the open air.
HIRE AN EXPERIENCED WEDDING PLANNER
It is literally impossible for one to arrange a destination wedding in a foreign country with no knowledge of the area and its customs. It may seem like an unnecessary expense but it's really worth the investment. A wedding planner is not only familiar with the area but also with the paperwork required, venues and suppliers. A planner may cost quite an amount but he or she will save you many hours of time and stress. A good wedding planner acts as your liaison between the couple and the suppliers. They give the best advice in all the technical, legal and creative aspects of the wedding day.
RESEARCH ON LOCAL CUSTOMS
Traditions change from country to country and Italy is no different. In Italy, weddings are usually traditional and often Catholic church affairs. This does not mean a couple need to follow that route neither does it restrict foreign couples from bringing their own traditions in their wedding. Nevertheless, it would be helpful to understand how weddings work in Italy. This way, you will know what to anticipate with suppliers, venues and the government. The couple needs to tackle the paperwork and necessary fees way before the date of the wedding to avoid inconveniences.
WHAT'S THE BUDGET?
The wedding budget is a key factor to consider when choosing a destination wedding. It is common knowledge that a wedding in Tuscany it not exactly cheap. However, whatever the budget is, with a good wedding planner, there is always a solution. If you are doing a budget wedding, one may go for something modest rather than going for the 5-star hotels. The couple should also take into consideration the size of the wedding party as this will significantly affect the budget.